Message Us on Facebook
Enjoy a relaxing and safe tour/ride in our comfortable Van with our professional Driver that will make your experience truly one-of-a-kind

Services within Baguio:
Baguio Van Tour

– P4.8k Per Day

Baguio Van Tour w/ Atok

– P5.5k Per Day

Personal Service within Baguio

– P4.8k

Event Transportation (Birthday / Wedding / Baptism / Team Building / Family & Group Outing)

– P4k

Airport Pick-up / Drop-off Services :
Baguio to Manila – Ninoy Aquino International Airport (NAIA)

– P11.6k

Baguio to Clark International Airport

– P8.2k

Baguio to any Destination :
Baguio to Clark

– P8.2k

Baguio to Subic

– P11.6k

Baguio to Tarlac

– P6.7k
Baguio to Manila

– P11.6k

Baguio to Bulacan

– P10.7k

Baguio to Laguna (Enchanted Kingdom)

– P13.4k

Baguio to Cavite

– P12.8k

Baguio to Tagaytay

– P13.2k

Baguio to Batangas

– P14.7k
Baguio to Sagada

– P8.7k

Baguio to Banaue

– P10.9k
Baguio to Urdaneta / Manaoag / Dagupan

– P4.7k

Baguio to Rosales, Pangasinan

– P4.2k

Baguio to Alaminos, Pangasinan (Hundred Islands)

– P6.8k

Baguio to Bolinao

– P7.9k

Baguio to Baler

– P12.7k

Baguio to San Fernando, La Union

– P4.3k

Baguio to Vigan

– P7.9k

Baguio to Laoag

– P9.8k

Baguio to Pagudpud

– P16.2k
Other Destinations

– Please contact us

Additional days

– Please contact us
How it works:
Contact us NOW via Text/Call or Facebook


0926 904 5801

(Globe)
Send me a Facebook message
Set the date, time and location of pickup
Enjoy a relaxing trip
Included:
Comfortable PREMIUM Van
Clean Vehicle
Professional Driver (Road Safety and Driver Awareness Seminar Completed)
Punctual Driver
Fuel, all Toll fees & Parking fees
Driver's Meal and Accommodation
FREE WIFI
Helpful Driver for Baguio Tours
GPS tracked Van for Client's and Driver's Safety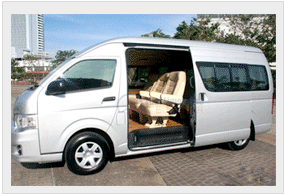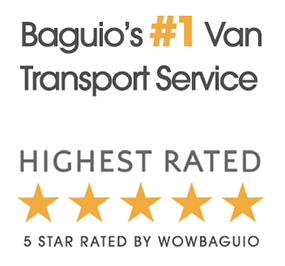 The most Recommended Baguio Denist and best Baguio Dentist
Follow Us:
Client Testimonials
Julia Salong
on April 6th, 2022
Hi, this is Julia. I am sending you my Review on this service. 5 stars all the way! Thanks for the wonderful experience going to the airport.
Heiden Reynards
on January 9th, 2020
I came with expectation of a reliable van service here in Baguio to Bolinao and I was very happy!
I can only recommend this van rental as they really take care of their clients!
My Family and I will be back soon and this time it will be to Sagada!
Beatris
on October 27th, 2019
Wow definitely Five stars cause the service-price ratio is unbeatable!
I mean, there is no better service here in Baguio! I tried multiple and
your service is the most reliable. For my next project I will hire you again
Also if in town I can only suggest my Baguio Dentist if you are looking for one. The best Baguio Dentist.
Michel S.
on October 8th, 2019

I've had the opportunity to work with BaguioVan.com for social events, weddings, airport transportation, and funerals and I was always amazed by the service! Always clean and well maintained van for us.
Very reliable and Overall a very smooth transaction.
Joe Sotto
on August 10th, 2017

Always a great experience renting from Baguio Van. They have excellent rates and customer service.
And most important I need to repeat the excellent customer service! Also the rental rates were very affordable! Kudos!
Planning to rent next week for our family reunion again
Leny S.
on August 3rd, 2017

I have been a customer of Baguiovan.com since 2014, never had any problems with them. Great people at Baguiovan who took care of all the questions i had, first class experience all the way. I keep coming back! Great owner, driver and great experience!
Lars ton
on July 19th, 2017
This Van rental place is absolutely wonderful and the driver was really helpful.
I booked in advanced and paid the 50% down-payment and everything went flawlessly.
I recommend them for all Transport and van rental needs.
Mike Castro
on July 14th, 2017
Alex assisted me to be picked up at the airport in Manila! The driver waited for me as my arrival was not on time. The driver was very professional! We arrived in Baguio after the 6 hours drive safely and comfortably. The driver was was kind enough to carry baggage up to the hotel lobby. I was so happy that everything came out as planned! Definitely recommend because I will be back taking this service back to the airport next month! Thank you so much and See you soon!
Sandra J.
on July 9th, 2017
I rented from them twice already. Always had a great experience with Alex and drivers, affordable rates, safe and clean vans is standard for them! I will hire them again very soon again and recommend this service to others. For sure A+ grade from me
Ann Weaver
on June 29th, 2017
I was extremely satisfied with your baguio van tour service! The most important was the driver who was really helpful. Every question you have and every thing you are looking for he will be helping you. Ricky (the driver) drove us around traffic congestion and saved us a lot of time!
Your service will be recommended to my family and friends!
John R.
on February 2nd, 2017
Hired the service to have a safe and relaxed ride from Baguio to Manila (Airport) with my kids. It was great as we could stop any time because it's really difficult to travel with toddlers.
Very friendly driver who brought us safely to our destination. We will be booking the service once we come back to the Philippines again!
Leave a Testimonial